Check out our Clearance Section
Login
Log in if you have an account
Register
Having an account with us will allow you to check out faster in the future, store multiple addresses, view and track your orders in your account, and more.
Create an account
Get Some Pow On a Fresh Hovland Snowskate!
22 Jan 2021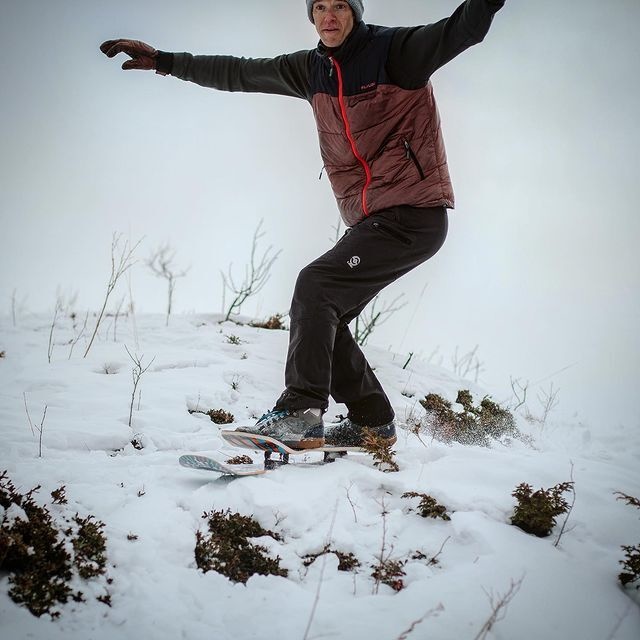 They are definitely not snowboards, some models look like a double-decker bus met a skateboard, they are one of the fastest-growing ways to hit the slopes, and they definitely rip. Snowskates are for park, powder, groomers, and backcountry; the perfect way to rip around in the Saskatchewan snow! In this blog, we're going to give you the lowdown on Hovland snowskates and everything you need to know to get out in some pow.
Who is Hovland?
Hovland is a gaggle of like-minded folks based in Salt Lake City who live to shred the gnar. They've been around since 2010, and are constantly pushing the envelope on developing new ways to ride. Ryan Palmer, from Hovland, says, "[w]hat makes snow skating so fun, [is] it brings the skateboarding vibe to the resort." Why not bring shove-its and kickflips, to a green run? A snowskate will let you turn any space into a blast, whether it's some soft hills at Cranberry Flats or the picnic table in your backyard! 
We definitely recommend scoping their team line-up, where you can really get a sense of how much fun a snowskate can be, no matter your skill level. Plus, if you're into skateboarding or snowboarding, the team has some familiar faces, like Spencer Nuzzi, Jeremy Jones, Terje Haakonsen, and more.
All about the decks:
There are 5 main styles, plus some bonus funions! Each deck is made from 7 ply Canadian maple, and are available in small, standard, and large to suit your needs to a tee. At Escape, we can give you some tips for picking the best style and size for you, plus hook you up with some gear to keep your noggin safe.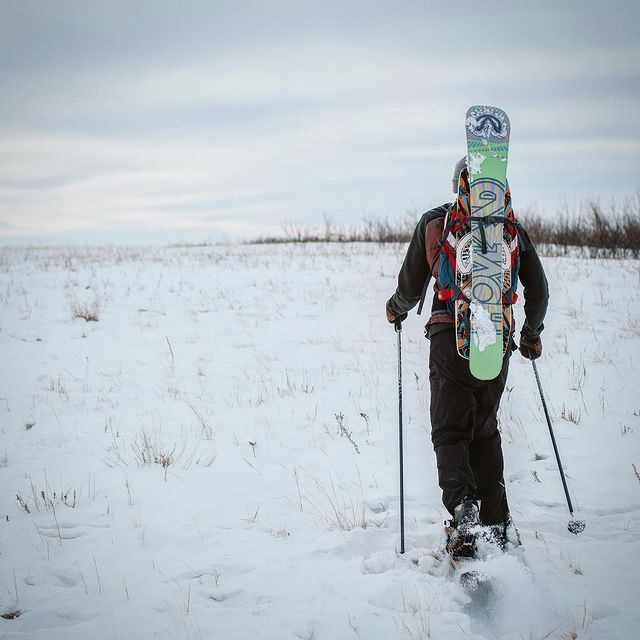 Which Ski is right for me?
Session Flatdeck



This style is the perfect companion for a backyard session with the buds or lazy park day. It features some pop + flex for ollies and flip tricks plus the strength and support needed for slides and grinds. Made of tasty Canadian maple, and featuring a slip-free foam grip, this deck is a great addition to your winter escapades.




The Ram



The Ram is wide and stable, but also soft and poppy. It is the most versatile snowskate from the Hovland lineup. This deck is made to rally the whole mountain from the park to shallow pow. Take this dreamboat with you to have some fun in the Valley.




Bubba



The Bubba is our powskate. With Saskatchewan's penchant for big snow dumps, the Bubba is the deck for that. With a longer sub deck, this fun machine will take you into some backcountry deep pow weirdness.




The Five-Oh

This skate is made for flip tricks, jumps, rails, ramps, and boxes in the park, but will let you get some hilly terrain in there as well. The sub deck has three different set up options to suit your preferences, and the low pivot trucks give you a bit more carve. We recommend you watch Nuzzi show you the ropes!


Buckshot

The Buckshot is the all-mountain shred stick. This deck will handle everything from ice to a couple feet of pow. If you're not super park focused, and want to be able to skate your whole mountain or hill, this is the snowskate you're looking for. Take it to Jasper for a getaway or somewhere more local, it'll get you some WOW for sure. Check out Jeremy Jones slaying on the buckshot, as if you need any more convincing!
Try something new this winter!
At Escape, we want you to get out and enjoy our Saskatchewan winters! Chill and get chilly with the best snowskates from us, your Saskatoon hookup for Hovland. Plus, if you want to try out a deck, check out our rentals! Not only do we have a ton of winter gear on there for you to try, but you can get yourself a snowskate for a whole day for 15 whole bucks! Check out our website to get your care kit, scope the boards, and pop into the store when you're ready for action!
Leave a comment