Check out our Clearance Section
Login
Log in if you have an account
Register
Having an account with us will allow you to check out faster in the future, store multiple addresses, view and track your orders in your account, and more.
Create an account
How do you wanna roll? Choosing the Right Longboard
06 Aug 2020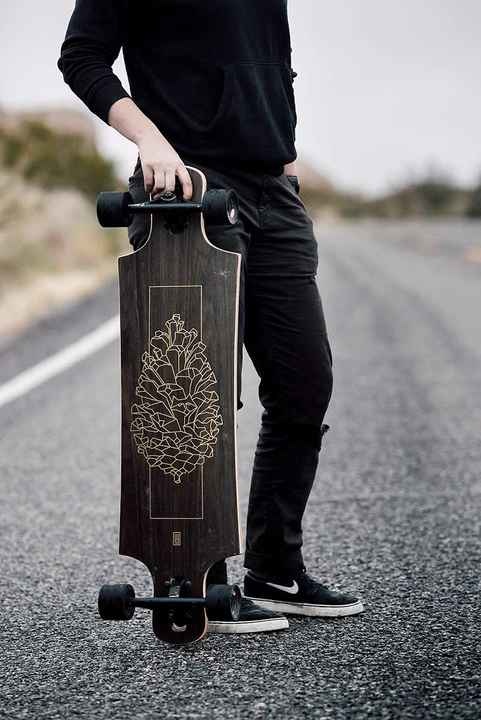 Let's talk about Longboards and Surfskates:
For the new and experienced longboard rider alike, the difference between longboards and surfskates doesn't seem that obvious. A big reason for this is that longboards are already built to mimic surfing in many ways, however surfskates were created because riders wanted a longboard that came even closer to the feel of surfing a wave. 
Landyachtz focus on making longboards more general in their design -- from racing boards, drop throughs, and cruisers, all with their own unique combination of design and material. They build everything from longboards for carving hills at high speeds while maintaining stability and control, to boards for a relaxed cruise on the Meewasin trail. At Escape Sports, we carry a number of different styles for you to choose from or customize.
Carver surfskates were manufactured to mimic the exact feel of carving a wave; they focus specifically on designing a range of trucks that offer riders a customizable and direct surf-like experience on the pavement. Surfskates offer the snap and drive of a surfboard, with that crisp pivot you get at the tail that lets you really pump a wave for speed.  
How to choose the right trucks: 
A lot of the ride-feel you get has to do with the type of trucks you choose for your deck. Trucks play a leading role in how the board performs underfoot. Choosing the right setup requires that you know what you're looking for in a board, as a board for racing downhill will look a lot different than a board built for your morning commute to work. 
If you are looking for a good board for commuting, a cruiser or a longboard with narrow trucks will be your ticket, but if you're looking to whip down the valley in a blaze of glory, you're going to want wider and more stable trucks. When you're passing people, pups, and other obstacles, you'll need more responsive control than you would when you're making slow and steady moves while flying downhill. 
2 things to consider when choosing trucks: 
 Size - 
The width of your longboard trucks should be as close to the width of your longboard deck as possible. We will assess the size and shape of the deck when we set up your ride and choose the right trucks based on your performance expectations. A good rule to consider is that wider trucks will be more stable but less responsive while a narrower truck will be less stable but more responsive. 
Ride Feel - 
For downhill and freeriding where you want stability you'll find 10'' or 180mm trucks are more common, but for carving, transportation, and freestyle where you're looking for a responsive ride, 9'' or 150mm trucks are more desirable. Your skill level and ride style will help determine the wheels, bushings, and trucks for your new board. 
What makes a Carver surfskate? 
Greg Falk and Neil Carver worked tirelessly from 1995 onward to develop a style of longboard that had the same foot control of a surfboard on a wave. When riding the pavement, they missed the snap and drive that riding a surfboard provides—that crisp pivot you get at the tail that lets you really pump a wave for speed. Falk and Carver felt that their skateboards were stiff by comparison. They attempted to modify their existing trucks, but soon realized (after many bungee cord hacks) that designing a truck that offered a customizable ride was going to be their next move. 
Through multiple stages of trial and error, they developed a series of truck designs built to replicate that surf feeling. Each truck design has a specific ride-feel, from the C7 which is more stable, easier to push, and adjustable, to the CX where riders have the ability to micro-adjust the geometry by increasing the turn angles and bushing seat height. Carver has created their patented, adjustable dual-axis trucks and custom tools that allow you to adjust the performance of your surfskate, giving you the ability to dial in the ride-feel of your board to suit your unique style. 
How do Landyachtz sail?
Landyachtz was founded by long-time friends Tom Edstrand, and Mike Perreten. They were commuting to their classes on their skateboards, but wanted to make it a little more exciting. While longboards were invented in the 50's in Hawaii, the sport remained pretty niche until the 90's. The products that were on the market at that time just didn't stand up to the courses these guys were taking them on. The steep and winding streets of Vancouver begged for bigger and better wheels, stronger and more responsive trucks, and boards that could survive the constant abuse of being pushed harder and faster as they found more challenging terrain. 
Landyachtz longboards come in a variety of shapes and sizes, from a smaller cruiser board to the large-and-in-charge through-mounts for different terrains and skate styles. But the thing that unites them all is the expertise that goes into making each longboard. Edstrand and Perreten have mastered their understanding of tree fibres and grains, allowing them to select trees that will be top performers when crafted into boards. Trees, like canadian maple, which landyachtz uses most often, are as individual as we are. These guys are experts at selecting the perfect candidates with long, uniform fibres which make for excellent skateboard veneers. 
Landyachtz boards have a wide range of ride types, from downhill racing to commuting, and a number of accessories that can really boost your ride like sails and slide gloves.  They also offer a number of truck styles which can be chosen based on your preferences. Whether it's a 50 degree kingpin or a racing specific 42 degree drop mount you're looking for, they have the right trucks for your ride.
4 tips for choosing the right complete:
Purpose – What are you using your longboard for? Will you be commuting to work or bombing hills in the valley? Knowing what you're using the board for will help you choose the right longboard for your needs. 
Environment – Where is the longboard being used? Each board is designed to be in a different environment from slush to summer, sidewalk to gravel. Choosing the right board depends on where you will be riding. 
Ride – What kind of feel are you looking for in your board? Each board has its own characteristics that define how it feels when you ride it. Some boards, like the Carver surfskates, have lots of built-in customization features while others are fixed and ready to roll as soon as you leave the store. 
Vibe – What's your style? Every board has slick graphics, interesting woodwork, and a unique shape. Seeing them in person can help you find the board that gets you excited. Whether you're looking for something laid back or way flashy, we've got lots of decks to choose from.
Leave a comment