Check out our Clearance Section
Login
Log in if you have an account
Register
Having an account with us will allow you to check out faster in the future, store multiple addresses, view and track your orders in your account, and more.
Create an account
Hit the trails in Skin-Based Skis
05 Dec 2020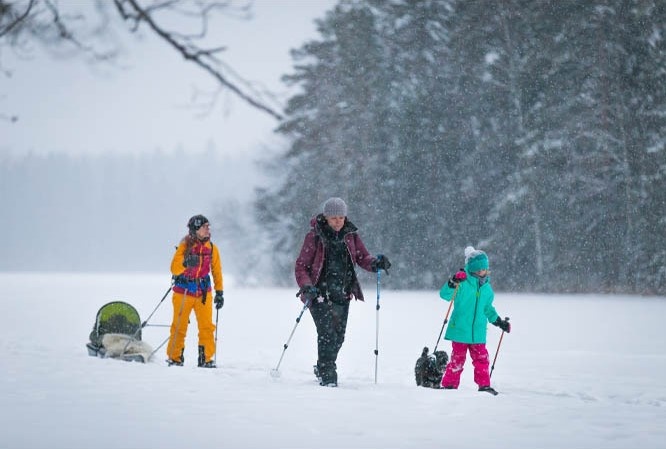 Winter is ready for enjoying! Saskatoon, we recommend hitting up some of our amazing local spots, like the Meewasin Valley, with a new shiny pair of OAC skin-based skis straight from Finland. We're going to talk a bit about the company and where you can go rip around in these great skis!
What are skin-based skis?
Best described as a 'sliding snowshoe,' these innovative skis are shorter and wider than a traditional Nordic ski, and feature a skin area for gripping. Whether you are climbing, pulling a sled, or side skiing, every model has versatility. Keep them handy for your next adventure, no matter what it is! Plus, these skis are designed for all levels to enjoy—passionate backcountry skiers, first timers, and professionals alike. These skis provide the freedom of skiing on all types of terrain, no matter where you are.
The company
This company lives and breathes the outdoors! Avid skiers and outdoor enthusiasts, they've spent many hours developing their idea of the perfect ski. Built with love and skill in rural Finland, these skis are sure to impress any prairie winter enthusiast..
Their products are made using the latest technologies, materials, and innovations. OAC is a modern composite manufacturer, based near Tampere, Finland. Their skis are sold all over Europe, North-America, and Japan.
Which Ski is right for me?
The XCD family
Whether it's the youth oriented XCD GT 137, which offers excellent performance on rolling terrain and backcountry trails, and brings plenty of smiles on descent, or the XCD GT 160, which is a backcountry touring skier's dream. The GT models are wider, allowing for a bigger skin area and more floatation, compared to the regular XCD model, like the XCD 160. Performance-oriented, the 160 style is ideally suited to winter trails and hardpack conditions. It features a skin area that is as small as possible, while still giving the needed grip for diagonal skiing. Depending on your needs, the XCD can outfit your whole family!
The Sliding Snowshoe
The light and stable POH 100 model is an amazing ski style for learning. Designed for kids aged 5 and up, these are truly designed to go up, down, and all around with no hassle. You can take the family out on your WAP 127 model! This extremely short, wide, and slightly cambered ski comes equipped with composite edges, which are dog-friendly. The 127 is the widest ski in our range and has good floatation in deep snow.
The BC Ski
A one-ski quiver, the KAR 147 is the most versatile ski from OAC! Its broad width offers good floatation on powder, while its full-length steel edges hold firm on hardpack. Thanks to its relatively short length, this snappy ski can manage tight turns in even the densest bushes and forests. Plus, the wide skin area makes the 147 a great climber, even when pulling a heavy sled! This model is truly a perfect, all-around, backcountry companion.

Our top 3 local backcountry ski spots
Cranberry Flats Conservation Area 
This gorgeous Meewasin managed park is covered in a variety of small rolling hills, perfect for your grippy skin-based skis! This ideal landscape is tons of fun, you can climb and ski down the gentle slopes. Located along the South Saskatchewan river, it has incredible views of the water and the floodplain on the other side. The park has plenty of stands of poplar to ski through as well as lovely juniper carpeting much of the ground.
Riverbank along Gabriel Dumont Park
Located right here in the city, you can tour along the river's edge and enjoy some very mild climbs and descents, or just skip around them if you prefer. Super accessible and easy to get to, this is an ideal way to spend your winter weekend!
Waskesiu Lake:
Taking these skis into the forest is an amazing way to enjoy the silence and peace of the snow laden trees. Head out from the hotel or cabin and explore spots off the beaten track. Don't worry, you'll be able to follow your tracks home to a hot cocoa when you're finished!
Gear up the family with our awesome staff
We have all the know how to get you fitted for your next snowy adventure. We also carry everything you'll need to keep your skis in tip top shape for years to come. Pop into the shop and we can get you fitted with all the essentials, like boots, OAC's universal bindings, and more. Plus, check out our blog on the necessary duds for adventuring outdoors this winter!
With big winters, comes big fun!
Get the whole family out on the trails this winter with these amazing skis. Whether you love a trail, or downhill, these whippersnappers can take you there. We have a full range of the OAC skis for little ones and adults alike. Give us a shout today to see what we've got in store for you.
Leave a comment